You might have heard the term mastermind thrown around in Internet circles. Some people use the word Masterclass instead. It's all just very jargony and trendy and yes…we use it too. So I thought I'd give a bit of context for what we do in our Masterminds, what to expect from one, how to choose which one is right for you, and ultimately…whether or not you NEED one.
Mastermind (to us) means a small group of likeminded business owners working together with 1 or 2 experts… creating, planning, and strategizing in a way that helps each individual more than could be accomplished if we set out to do it alone. A mastermind is more than a course, less expensive than 1:1 or done-for-you work, and ultimately more beneficial because it takes the group "mind meld" into consideration.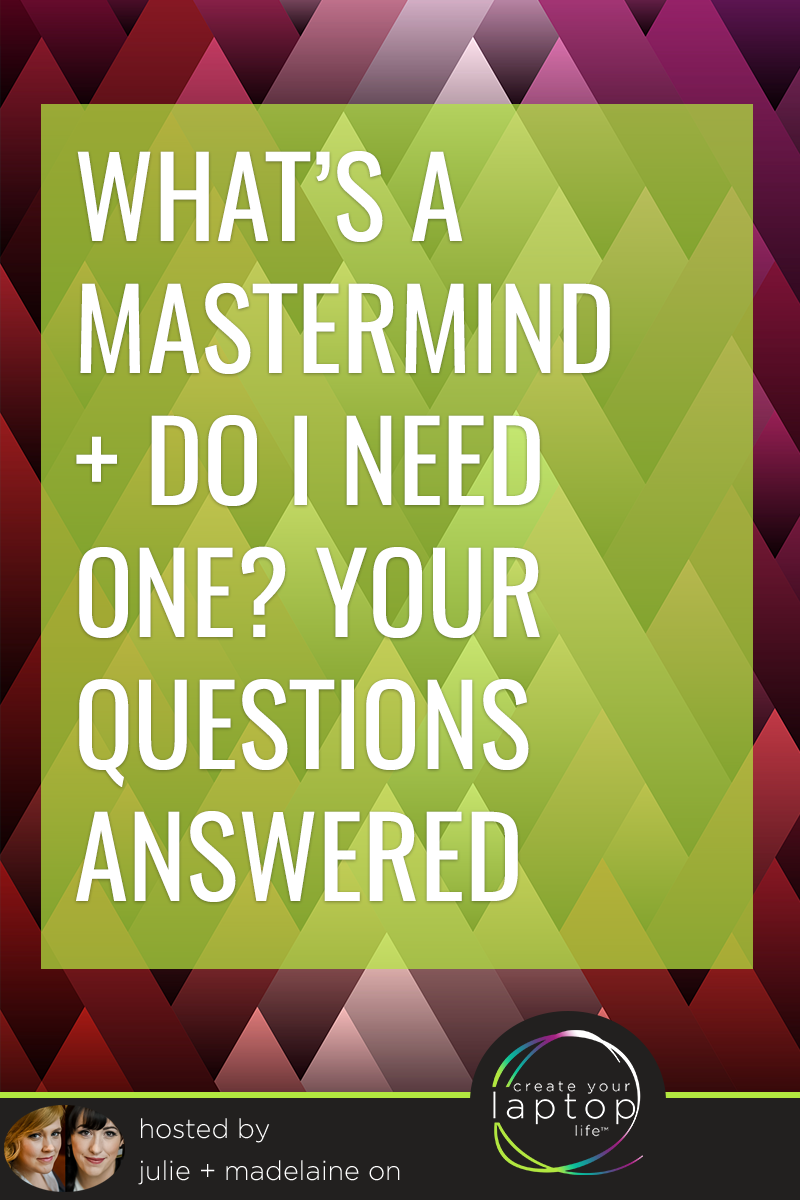 What can you expect from a Create Your Laptop Life Mastermind?
You can expect above all, to be challenged. Anyone who enters our mastermind comes out the other side saying, "WOW. That was intense." It's designed to really challenge you, teach you, and help you get things done that you've been putting off because of lack of time, motivation, or skill.
You can expect ongoing support that is far above and beyond what you'd get in a self-paced DIY course. You'll also get the additional benefit of the other mastermind members who are walking a similar journey and can provide help and support as well.
Our masterminds are between 8-12 weeks and limited to 12 people with one or two leaders guiding the calls and managing the Slack channel. You get additional tech support during business hours, as well as an entire course dashboard filled with content, cheat sheets, swipe files, and other materials meant to help you fast track your success.
Which Mastermind is right for me?
We currently have FOUR masterminds. They all run ongoing throughout the year and here's a quick breakdown of who they serve and what results you can expect.
Webinar Funnel Mastermind
OR
Self Liquidating Offer (SLO) Funnel Mastermind
These masterminds are for entrepreneurs who HAVE SOMETHING TO SELL. Maybe it's a small set of products or courses. Or perhaps it's a high end consulting program. The SLO Mastermind is about marketing your DIY courses or products. The Webinar Mastermind is about creating a funnel to get people on the phone to sell them something high end.
If online business is a train, there are two rails that make it run: The content rail and the marketing rail. These two masterminds focus almost exclusively on the MARKETING rail. How to package and sell your products or content so you get lead after lead after lead. It does not cover how to build a course or a product. You come to the mastermind with something already built (or at least outlined).
If you have a product that is $297 or less, the SLO mastermind is a better fit.
If you have product that is $497 or higher, the Webinar mastermind is a better fit.
We are heavy on TECH, strategy, and getting the funnel UP AND RUNNING without the long and painful learning curve most DIYers face.
We're running a FREE workshop tomorrow to explain the difference between the two! You can sign up here.

We're very excited to announce the release of this Mastermind May 1st. You'll be able to opt-in for the full mastermind, or you can buy the content on its own so it's more like a self-study course. The mastermind is for people who want to become BAD ASS Digital Marketers…for themselves or others.
This is a good fit if you want to learn how to build a brand or online business from the ground up. If you have nothing other than a fanciful idea and need to bring it to life. If you have random projects and platforms and really lack a total strategy. If you want to make money helping other online business owners with tech and marketing and strategy.
Extremely rigorous and requiring your focus and commitment, The Digital Gangsta is my flagship offer to teach you..EVERYTHING I KNOW about online marketing and implementation…so you can do the job I do…or help yourself the way I help my clients.
People who choose TIER II or III of this mastermind will get (upon graduation) the content (not the coaching) for whatever sales funnel mastermind they are most drawn to. Think of it as a bonus!

This unique mastermind is designed for service providers (virtual assistants and online business managers) who'd like to transition into an agency or build out higher end consulting offers to supplement their done-for-you services. If you are already making $4-$5k a month and ready to bring on a team, start consulting, and supplementing your income with affiliate offers and collaborations, this mastermind is for you. It's a BIG mastermind that focuses on pricing, messaging, strategy, and the mindset shift required when you go from solopreneur to agency owner. If you want to continue to provide full services and scale, this is the way to do it.
We also cover an overview of how to start developing products and/or courses to supplement your current business, and at the end, you receive the content (not the coaching) from either the SLO or the Webinar Mastermind.
Do I need a Mastermind?
What about 1:1 Coaching?
Create Your Laptop Life has opened up a 1:1 coaching program, and here's how it fits into the mix. If you are a newbie or simply struggling on a particular topic, the 1-off coaching sessions are perfect. The coaching is designed to solve specific problems at specific moments, and to help infuse your business with a shot of encouragement, perspective, planning, and help.
It's also a great way to know our community and tribe!
If you are a new service provider and wanting to work with someone longterm, Madelaine is a great choice for start up VA's and freelancers who need more intimate support and help getting from $0-$5k.
As always, if you have ANY questions, please reach out to us here.