Happy April! This post is SUPER exciting to write. I've broken a goal I honestly didn't think would EVER happen. And quite frankly, I had an epiphany about it.
I feel like what people "think" is the lifestyle and habits of someone that has just had a $100k month is actually quite different than what the lifestyle and habits ARE of someone in this position.
Pipe & Lime Media crossed the $100,000 in one month barrier for March. And though I do not think it's going to repeat over and over just yet, as I drove my kids to their activities in a 2006 Camry with 190,000 miles, a broken windshield wiper, and purple crocs and pajama pants…I thought…
"No one would believe me if I told them. I don't look the part. I don't look how I expect someone to look in this position."
In fact, I have a private message conversation with someone the other day and after 20 minutes (and some Internet stalking), he said to me…
"OMG. Why are you talking to me on PM? You are a rockstar. Most people pulling in the revenue you pull in are too busy to answer anyone."
I don't LOOK or ACT the part.
And in a very controversial Facebook post I wrote the other night, (which I'll admit was lazy copy at best), I surmised that men and women treat the accumulation of wealth very differently. I should NOT have said men and women. I think I meant — certain men. Anyway please, no hate mail. I should have said something else (though I'm not sure what – maybe immature vs. mature?).
Here's what the Facebook post said…
The difference between men and women in business. Let's pretend I said the immature vs. the mature m'kay?

A man will post flashy pictures of his new car paid for by massive amounts of affiliates signing up for Clickfunnels, therefore getting his car paid for by the Clickfunnels affiliate program.

A woman will decide instead… to spread the affiliate wealth and instead of taking it all for herself, will gladly help facilitate her followers to help each other by signing up under one another's links rather than her own.
The man will appear rich.
The woman will appear not.

But she is actually much much richer than he'll ever be. Because….

#loyalty
#radicalgenerositywins
#dontunderestimatethepowerofrealleadership
#initforthepeoplenotthecar
The point is not to bash men, so my bad. My point is to point out…what does wealth look like? What does abundance look like? And what does it even mean? And it seems that people have to be FLASHY and obnoxious in their showing off of wealth to get people to pay attention to their message or business or whatever.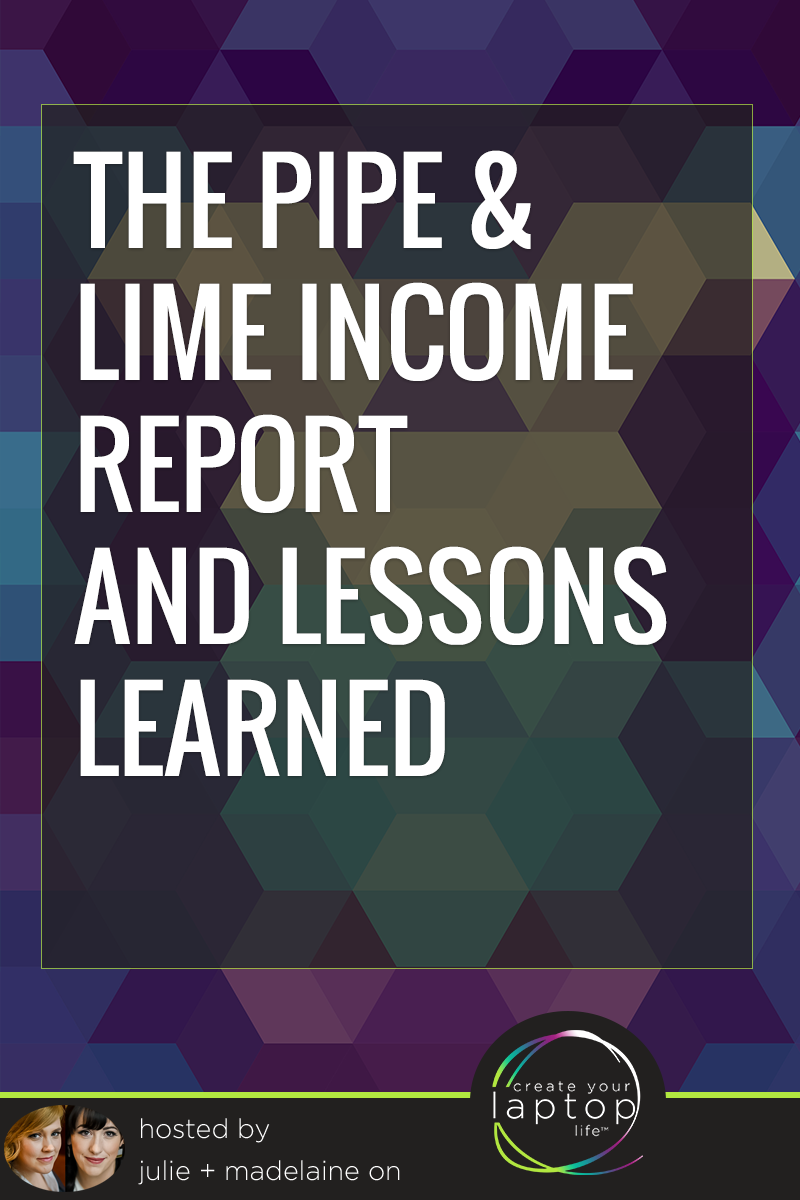 What does a person with $100k a month business even look like? And why are you so attracted to it (or not)?
A $100k month is insanity. But it's also…insanity. Lol
One of my coaching clients makes WAY WAY less than $100k a month and yet she has WAY WAY more flexibility than I have. So if wealth to you means flexibility, a $100k a month business is not something all that flexible.
If $100k a month means whatever kind of car or clothes you want, that is not my reality.
My reality is not for the faint of heart.
My reality is filled with demands and needs..more than I could EVER handle in one day.
My reality is filled with nights awake…staring at the ceiling…near paralyzed with the pressure and responsibility of so many people and lives and making sure I help at the highest and deepest level possible.
My reality is HUNDREDS of messages, some amazing, some not, and trying not to let my mood or the latest drama to affect my decision making or my business goals.
My reality is 60 hour work weeks, every week, without any breaks or rest. And I'm not exaggerating.
My reality looks NOTHING like pina coladas on the beach or fancy cars or expensive clothes or lunch dates in the middle of the day. I HAVE NOT had a vacation since July.
Still…I wouldn't trade it for ANYTHING in the whole world. I love my job, the people I serve, and the business I've built with my nearest and dearest colleagues and biz besties. I'm driven by a mission and a passion that makes it all just so fucking amazing, I thank God every day that this is my life and this is what I get to do.
I had a few of my students help me make a promo video, and honest to God, their words alone are worth every single sleepless night I have had…or will have.
But I'm wearing purple crocs, in a 2006 Camry with 190,000 miles, living in a 1100 sq foot rental home because the bank doesn't believe I can safely pay my mortgage (something about entrepreneurs being high risk).
I have $50,000 saved. All of it allocated for a home deposit, college tuition, and retirement. And if we can get the banks to give us a mortgage, scrap the college and the retirement. Everything will go RIGHT into a house.
Not a new car.
Not new shoes.
Not a fancy vacation with a personal chef and turndown service.
I don't know if I'll ever make the BIG stage that I should be on, because I refuse to live a high-end lifestyle just to get people to buy my stuff and listen to what I have to say. It's not what it looks like, and anyone who shows you that, is ONLY showing you a sliver of a highlight reel.
So here's the profit and loss statement for March.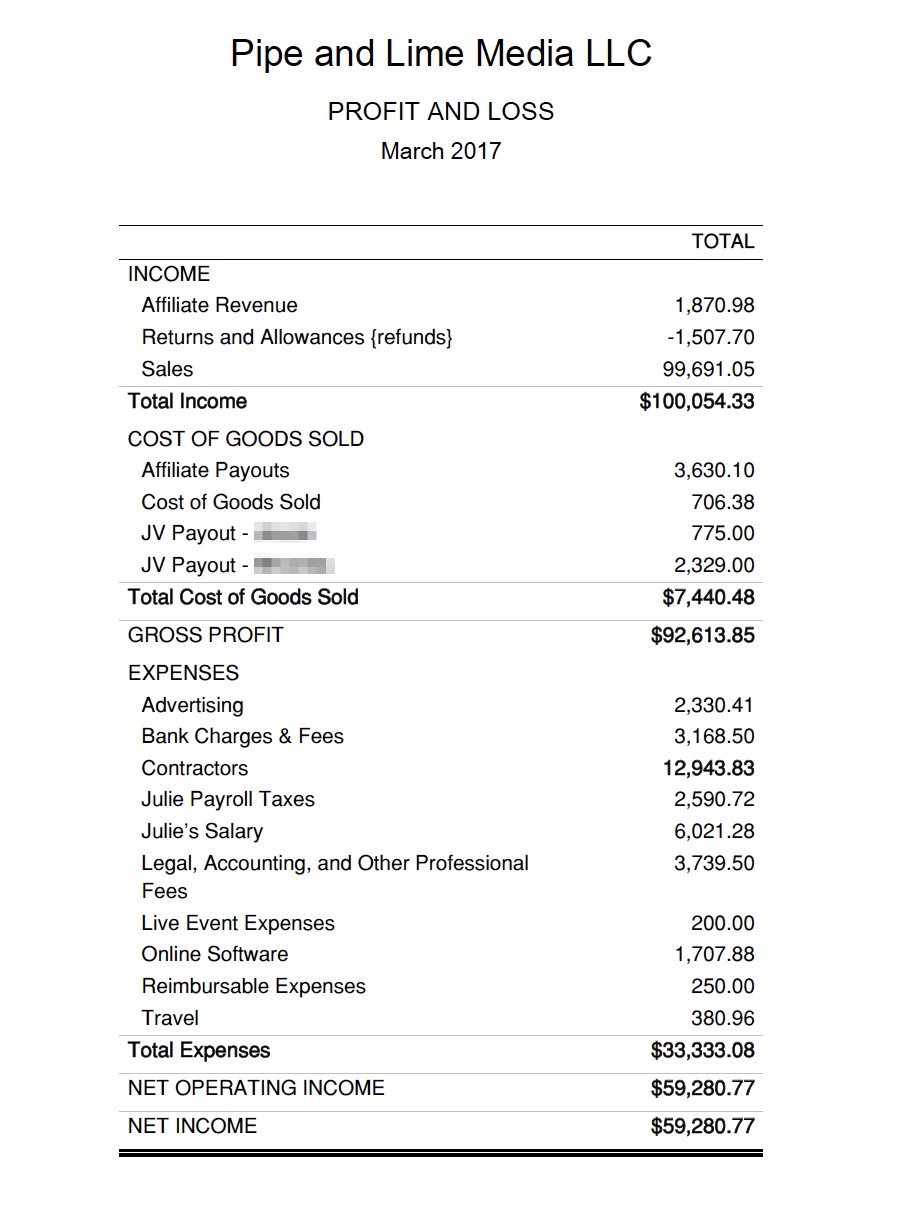 What's so much fun about that bottom number? That's PROFIT after all the stuff. You can see paying contractors was my most expensive category, as it would be for a business running at this size now.
But…at least $15,000 of that bottom number is knocked off immediately for taxes bringing it to $44,000. And something that is absolutely critical when you're not just working for yourself? Is to have operating expenses in your savings for at least a month or two..cause…guess what?
It's not just about me. It's about a lot of flippin' people. The stakes now are high.
People ask me all the time, "How do you know how much to pay yourself, how much to put aside and save, how much to invest back in?"
This is what I do…you can do as you see fit…
I pay myself a $6000 salary (net) per month, which is lower than it should be. My medical insurance and rent alone are $3000. Connecticut is psycho. MOVE! people say. To which I say, life is complicated. I can't. My children must be near their father so I will suck it up and pay the outrageous CT taxes, insurance, and rent because…well..family is more important than money.
Then…with the remaining profit at the end of the month…
25% goes to taxes off the top.
After the taxes are paid…
50% of it is earmarked for business savings
30% will go towards investment back into the business
20% will be a bonus to my house fund
So for March, I'm looking at a $15k tax bill and then…
$22k for business savings (otherwise known as the rainy day fund – you'll notice that 22k is NOT EVEN A MONTH of operating costs so this is a bit low)
$13.2k for back into the business (in training, advertising, tools, etc. to scale and grow)
$8.8k as an owner's bonus (aka more house money)
Life is good. Really good.
But it's not fancy, and it's not easy, and it's certainly not the romanticized entrepreneurial version that many coaches and gurus brag about.
I'm still human though…in celebration of an achievement I'm seriously still in shock over…Alex and I had sushi on Saturday night. 🙂